GHATAM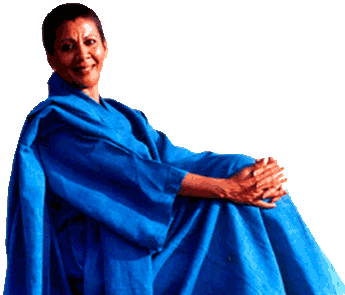 Today, more than half a century after the start of the renaissance of Indian classical arts -- as a result of which dancers and other artists were gradually accepted by 'respectable' society -- there exist any number of dance and music schools to which the young and old flock, drawn by either the sadhana or the spotlight aspect of the performing arts.
Nearly every small town boasts of an art institution of some sort, but some, of course, being founded by pioneers and geniuses, have become a part of tradition itself. Among these, Rabindranath Tagore's Shanti Niketan was one of the earliest. Kalakshetra, founded by Rukmini Devi Arundale, and the Kerala Kalamandalam established by the poet Vallathol, remain heavy brand names in the fields of Bharata Natyam and Kathakali respectively. For Kathak, there is the Kathak Kendra and other institutions founded by eminent artists. Each of the dance styles looks up to one or more pioneers who furthered the cause of the arts in India and brought skills and knowledge, for centuries hidden behind temple rituals and caste traditions, out into the open for world acclaim.
NEWS
Their work was brought full circle, it would seem, by Protima Gauri, Odissi dancer, who founded Nrityagram (The Dance Village), near Bangalore, and, as the century entered its last decade, returned classical dance and its aspirants to the milieu of the ancient gurukul. Protima Gauri was a person of wide tastes and had done many things in life, including acting and raising a family, before she threw herself into the pursuit of Odissi at a stage in life when the traditional gurus thought it was too late to begin. After performing for many years and holding her own despite the criticisms and controversies the world of the stage thrives on, Protima founded Nrityagram, of which she had dreamed, in her own words, as 'an idyllic dance village [...] peopled with idealistic, hardworking, extremely talented and dedicated young dancers. Girls with a dream in their hearts and the courage to go through fire to achieve their objectives. Girls with a single-mindedness of purpose and the grit to 'hang in there', believing, believing and believing, until they realized their objective, their goal.'
This description, written as part of the message of blessing to one of Nrityagram's first soloists, Surupa Sen, seems almost to describe Protima herself, reflecting her unflinching courage in the face of adversity and even ridicule -- the courage to 'hang in there,' until she had achieved what she wanted.
Rukmini Devi Arundale, credited with reviving the art of Bharata Natyam as well as with bringing respectability to the custom of women dancing at all, had said that her dream, after establishing Kalakshetra, the 'temple of arts' in Chennai, was to establish a whole village or commune of the arts. Rukmini Devi died without realizing that dream, but Protima Gauri, harnessing the power of the corporate nineties, fulfilled it in a different way.
On ten acres of land outside Bangalore (acquired amidst the scornful sneers and raised eyebrows of others in the field), she established a village dedicated to reviving the gurukul system, or tradition of students dedicatedly living with the guru and acquiring their art not just through studies but through serving the guru and living like his own family. Nrityagram is dedicated to furthering the classical dance styles and martial arts of India. For each art form, there is a separate gurukul, which is committed to enrolling not more than six residential students. Just as in old times, the students are provided free board, lodging and education. Their lives revolve totally around the work of Nrityagram, which includes, besides lengthy hours of dance training and theoretical and language studies, the farming and dairy work that makes them as self sufficient a unit as possible, as well as teaching dance to the children of municipal schools of villages nearby.
What reminds you that Nrityagram is not an anachronism is the sponsorship that has enabled the construction of the gurukuls, and the international flavour of the workshops and training supplements provided to the students. Sponsors have replaced feudal rulers and emperors as patrons of the arts, and with new mores in place, demand more than sterling performances in return for their patronage. Thus, names at Nrityagram, such as the Raymond Odissi Gurukul, though they may not glide gracefully off the tongue, leave you in no doubt as to who footed the bill.
The other modern aspect of Nrityagram is the holistic approach that seeks to create perfect artists by all means available rather than only using the traditional practices. Workshops in yoga, sculpture, creative dance, Aikido and other disciplines have been held.
Even an institution a decade old has only crossed its first landmark, and Nrityagram is a village, leaving itself the option of evolving over centuries. Time will tell how successful Protima Gauri's experiment will turn out to be. As of now, the Odissi section is the most prominent, and two soloists, Surupa Sen and Bijayini Satpathy that have emerged from it, promise a shining future for the village.
But a landslide on the road to Manasarovar claimed the founder and first guru of Nrityagram some months ago this year. Protima Gauri was wise enough to lay a strong foundation for her dream, so that the structure was equipped to continue even without her. After weathering the personal storm, there is no doubt her devoted disciples will continue to lead Nrityagram.
An admirer once quoted Protima Gauri as having remarked in a TV interview that she wished we could all be born old and grow younger, thus being able to combine the wisdom of experience with the energy of youth. Such lucid statements endeared her to even those who may not have appreciated her work or dance, and make Protima Gauri stand out as a remarkable artist and teacher of the century.