CARNATIC MUSIC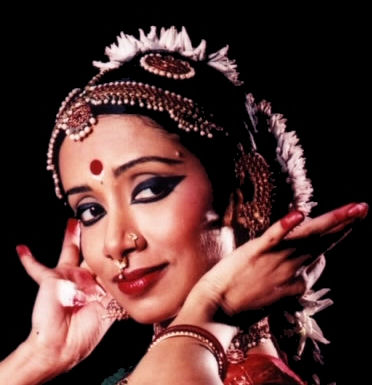 Internationally acclaimed as a creative artist whose work reveals the infinite spaces within the traditional form, Alarmel Valli bases her dance on the principle that Bharatanatyam is a superbly evocative language, where the dancer who has mastered and internalised the idiom can write her personal dance poetry. In her choreography, drawing on her knowledge of music and the rich, nuanced vocabulary of classical Indian dance, Valli explores the complex layers of meaning in poems and lyrics, giving them a visual and melodic dimension.
Trained by great masters, Pandanainallur Sri Chokkalingam Pillai and his son Sri Subbaraya Pillai, she has enriched her dance vocabulary and extended the frontiers of her dance tradition to evolve her own distinctive style, which has been described as "uniquely individualistic…an effortless synchronisation of apparent contradictions - linearity and lyricism, symmetry and sinuosity, precision and poetry". Her work, while remaining within the framework of classical Indian dance, is contemporary in its interpretation and scope to communicate and has been lauded for creating an international awareness of Bharatanatyam, as a dynamic, continuously evolving, classical dance form. A foreign critic writes - "Valli's dance, is movement as pure joy… An Alarmel Valli or Suzanne Farrel can literally embody, infinite subtleties of the emotions, intricacies of design, glimpses of the Divine. They can, momentarily at least, wrench order out of chaos".
Alarmel Valli's perception of dance has also been enriched by her study of Odissi, under renowned Guru Kelucharan Mohapatra and Guru Ramani Ranjan Jena. Her study of Padams and Javalis under the eminent classical musician Smt.T.Muktha, of the Veena Dhanammal style of music, has helped her explore the ideal of dance as visual music. Her work expresses the subtle distinction, between the literal translation of the lyric into body language and the mature, evolved transmutation of music into movement.
The late A.K.Ramanujan says of the classical Tamil anthologies of Sangam poetry, authored around 2000 years ago, that "not to know them, is not to know a unique and major poetic achievement of Indian civilisation." Valli's extensive research on these poems, which are remarkable for their richness, subtlety and contemporaneity, has resulted in a significant body of work, which is a fusion of the poetry of words, music and movement.
Recipient of numerous awards, in 1991, Alarmel Valli was the youngest dancer to be conferred the President's award of "Padmasri". In 2004 she was awarded one of India's highest civilian awards - the 'Padma Bhushan', conferred by the President of India. In the same year, the Government of France conferred on her, one of its highest distinctions - the award of Chevalier des Arts at des Lettres. She was honoured by the State Government with the award of Kalaimamani and by being made the State Artist of Tamilnadu. She has received the title of Nritya Choodamani from the Krishna Gana Sabha in Madras, the 'Grande Medaille de la Ville de Paris' from the City of Paris and the Award of the Sangeet Natak Akademy- the apex body for Music, Dance and Drama in India.
She founded 'Dipashikha' -a Centre for Fine Arts and has choreographed works for her students that have been presented in Japan and the US. Through lecture demonstrations, master classes, workshops and seminars in India and abroad, Valli shares her thoughts on Bharatanatyam and on tradition as a dynamic process of renewal and change. A few of the forums in which she has worked, include Spic Macay in India, the Societe Italiana del Flauto Dolce, The Philharmonic society in Rome, the International Sommertanzwochen in Vienna and Universities across the US.
A film on Alarmel Valli was made for the Omnibus series, on BBC 2, by producer Michael Macintyre. Alarmel Valli has also been featured in dance documentaries by noted Indian producers like the late G. Aravindan and Prakash Jha, by the BBC (in The Spirit of Asia Series), the Nederlands Broadcasting Company, Arte (France) and Japanese National Television. The Films Division of India commissioned a film on her for the Indian National Archives. Titled 'Pravahi', it has been directed by eminent film-maker Arun Khopkar, with cinematography by Madhu Ambat.
Alarmel Valli's performances at India's prestigious cultural venues and landmark opera houses, theatres and festivals around the world have received wide acclaim.
For more information: www.alarmelvalli.org