KATHAKALI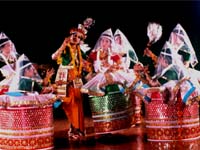 Manipuri is one of the most beautiful dance styles of India. Nurtured in the mountainous region of the northeast, it takes its name from the name of the area, Manipur, which is now a state. Manipur literally means a jewel of a land, and the state is set like a gem in the verdant hills. The legend goes that the gods drained a lake in the beautiful countryside in order to find a place to dance. No wonder then, that dance is an inherent part of the rituals of daily life, such as weddings and homage to ancestors.
The Lai Haroba, a ritualistic dance depicting the Creation, is considered the precursor of Manipuri as seen today. The Lai Haroba is still an important living tradition, while Manipuri has expanded and gained popularity as a performing art in group and solo presentations.
Among the important constituents of the Manipuri repertoire are the Sankirtana and the Raas Leela, based on the devotional theme of Krishna and Radha. The Raas Leela depicts the cosmic dance of Krishna and the cowherd maidens. The beautiful embroidered skirts of the dancers, long and flared from the waist, and the transluscent veils, along with Krishna's costume with the tall peacock feather crown, add to the radiant appearance of this dance, as the performers sway and twirl to an ascending tempo.
Another vibrant feature of Manipuri is the Pung Cholam or Drum dance, in which dancers play on the drum known as Pung while dancing with thrilling leaps and turns to a fast rhythm.
Text by ANJANA RAJAN