CARNATIC MUSIC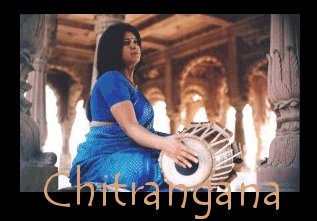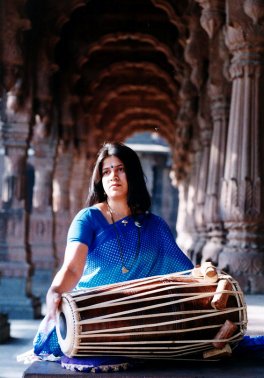 Somehow, when this shy, petite girl sits on the stage skillfully handling the Pakhawaj, one finds it difficult to match his aural and visual input. The strong masculine sound of the ancient percussion seems quite the opposite to her coy, babyish personality. Yet, one has to marvel at her determination that made her work against all odds and achieve the prerogative of being the first ever woman Pakhawaj artiste in the world. When people refer to the entry in Limca Book of Records, Chitrangana tries to divert them with something else. On being forced to face the question of her being recorded as the first-ever, female Pakhawaj player, she said that for her joy is greater than distinction.
Indeed, it was this joy that made Chitrangana secretly try her hand on the Pakhawaj of her grandfather Pandit Ambadas Pant Agle, renowned internationally for his absolute mastery over this instrument. Pt. Ambadas and his musical household were true to age-old traditions. Little Chitra would see her elder brothers, Rajendra and Sanjay being taken to task if they ever made a slip during riyaz. However, there was no formal training or riyaz for her where Pakhawaj was concerned. Rajendra was being trained in harmonium, Sanjay in Pakhawaj and Chitra in dance. It was only when her brother Sanjay had taught her secretly and she mastered the basics with aplomb that orthodoxy bowed down to talent. Her father Kalidas Pant Agle began teaching his talented daughter.
Chitrangana Agle Reswal is also the best example of native talent being nurtured through institutional training. Not only did she hail from a musical family, she learnt music formally, studying Pakhawaj under Raja Chhatrapati Singh for five years. Ustad Allauddin Khan Sangeet Academy had sponsored this study under its Durlabh Sangeet Shaili scheme. She also received a two-year scholarship from Ministry of Human Resource Development. Approved as B high artiste, her solo recitals are regularly broadcast from Akashvani, Indore.
Besides giving solo performances and accompaniment at all prestigious functions in and around Indore, Chitrangana has performed at Bhopal, Jabalpur, Raigarh, Nagpur, Nanded, Pune, Aurangabad, Mumbai, Vijayanagaram, Kolkata, Hyderabad, Varanasi and Ahmebdabad. It is easier said than done that a skilled percussionist like Chitrangana should as capably juggle the various roles of daughter, wife, mother, scholar and judge, but she does them all.
Chitrangana Agle Reswal
663/9, Nehru Nagar, Indore [M.P.]
Tel: +91-(0)-73 -432866. pakhawaj@gmail.com