CARNATIC MUSIC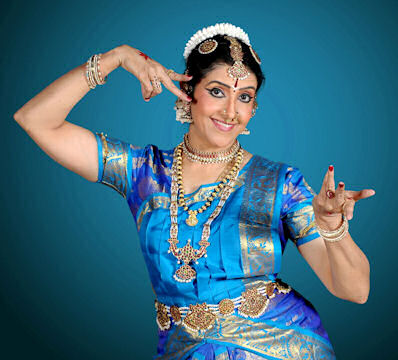 Bala Devi Chandrashekar
Trained under eminent Guru, the noted Bharata Nrityam exponent Dr. Padma Subrahmanyam, Bala works on developing and perfecting the style that would be seamless and fluid while yet retaining the precision, power and purity of line - typical of classical dance. Bala had the unique opportunity to learn the core components of the 108 Karanas (temple sculptures). The Karanas are governed by artistic laws of permanent value of Natya Sastra, which is the specialty of her Guru Dr. Padma Subrahmanyam - whose scholarly thesis on Karanas remains an inspiration to exponents in this field. Bala teaches the revived dance technique translating theoretical concepts into practice based on her Guru Dr. Padma Subrahmanyam's research and teaching. For her dedicated services in promoting art and culture, Bala was conferred with the title "Bharata Nritya Seva Mani" by her Guru Dr. Padma Subrahmanyam.
Bala has been a consistent performer for varied audience across the US, making a significant and discernible impact on the concert platform. She is a panel artist with the New Jersey state council on the Arts. And an active participant in some of the prestigious dance seminars and workshops. She is currently involved in developing "Performing studies" in collaboration with Theater and Dance, History, Philosophy, Linguistic anthropology and Music departments of various Universities in the United States. In addition to being a dancer and choreographer, Bala teaches, conducts workshops and master classes, and develops outreach performances and programs for schools and universities. Her work in the subject area of performing arts is recognized by some of the prestigious Ivy League colleges.
Recognition of Bala's work includes Grant Awards from the New Jersey State Arts Council, Texas commission on the Arts, Ohio Arts Council Apprenticeship Grant, and numerous other state and college awards. She was recently recognized by the National Foundation for Advancement in the Arts for coaching students in exceptional artistic achievements. Bala is recognized as a visionary and evangelist in the arts community for her passion to promote art and her willingness to take on complex and creative artistic challenges. In addition to her artistic endeavors, Bala is a management consultant.
Her Organization, SPNAPA Academy of Performing Arts, is currently involved in productions, which reflect a wide range of artistic expressions, ranging from traditional, modern to inter-cultural collaborations with artists of diverse cultures, countries and in the process striving to build a bridge between diverse cultures and traditions. Bala also serves as an artist in residence at the Carl A Fields Center at Princeton University.
More Information: www.shreepadmanrityam.org