CARNATIC MUSIC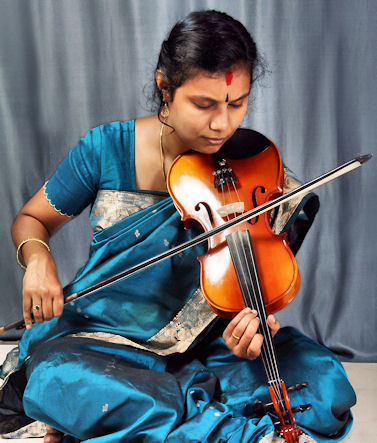 Vrinda Varma began learning carnatic violin at the tender age of 5 under the tutelage of the renowned Violin Maestro and her father, renowned Guru and Composer S.Easwara Varma (Rtd.prof.in Violin, Sri Swathi Thirunal College of Music). She has been very meticulous and focused in her training and her performances are backed by tremendous commitment and dedication to the art form.

Vrinda has developed an inimitable, characteristic, elegant and graceful style of her own. Even at school levels she has participated in several reputed cultural competitions including Kerala University Youth Festival and Inter South Zone Youth Festival and won several prizes. She completed the Junior Scholarship from C.C.R.T under Dr. Chalakkudy N.S Narayana Swamy for 6 years and Senior Scholarship for 2 years from C.C.R.T under Chalakkudy Narayana Swamy and B.Sasikumar. She is the 1st Rank holder in Ganabhooshanam Diploma (Violin) and has passed with high ranks the Masters Degree in Performing Arts and 1st Rank holder of BPA (bachelor of performing Arts).


Vrinda being a graded artist in All India Radio has accompanied vocalists like Dr.B Arundhati, Dr. Bhavanaradhakrishnan, K.N Ranganathasharma, Vijayalaksmi Subramaniom, Srividya and many upcoming musicians. She was privileged to accompany her Guru in his violin concerts and has a number of CDs and cassettes released as violin accompanist. She has performed in many leading Sabhas and various music festivals abroad and in and around South India.


Vrinda is entitled with the Kerala Sangeetha Nataka Academy Endowement Award 2003 , Yuva Kala Prathiba Puraskar from Swaranjali 2004 and Chembai Trust Cash Award prize 2006.

She is currently pursuing her P.Hd in carnatic Music at Kerala University.