CARNATIC MUSIC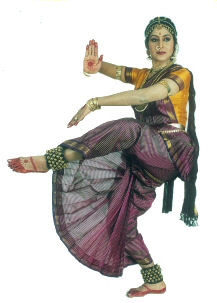 Shanta Rati Misra, brings to her dance a pure sense of aesthetics, bolstered by an acute intelligence. The physical features with which nature endowed her – a tall, lissome figure, expressive eyes and face contribute to the effortless beauty and grace of her dancing. Her footwork impeccable, her abhinaya beguiling and her sense of laya and music is excellent".
Born and brought up at Singapore, Shanta has lived in various cities in the world and is currently based in Mumbai. She is an exponent of Kathakali, Bharatnatyam and Kuchipudi. She has had the opportunity of being trained under some of the most eminent gurus of classical Indian dance like Sri Oyur Govinda Pillai, Srimati Kalanidhi Narayan, Padmabhushan Raja and Radha Reddy, Padmabhushan Guru Vempati Chinna Satyam.
"In each dance recital, Shanta displays Nritta, Nritya and Abhinaya with a lyrical magnificence, fluid movements and alluring grace casting an enduring spell on the audience."
www.shantarati.com