OTHERS

Ragini Trivedi has been teaching post-graduate classes in government colleges in Madhya Pradesh since 1987. An approved artiste of Akashvani, she has also given Sitar performances on stage at Bhopal, Indore, Varanansi, Mumbai, Mysore etc. during this period.
MAJUMDAR MEMORIAL FESTIVAL
Report by RAGINI TRIVEDI
GHATAM
In its eighth year, the commemorative festival of music organized by Krishna Rao Mujumdar's daughter Kalpana Zokarkar, herself a vocal virtuoso and son-in-law, Ajay Pohankar, the leading vocalist, gifted to the discerning audience of Indore a most enriching experience. Having inherited the voice and an indomitable aesthetic commitment from her mother, Manik Bhide, the vocalist of the evening, Ashwini Bhide Deshpande proved that it is not heritage alone that makes this artiste excel. Though it was just a whit late for Puriya Dhanashree, Ashwini carried the Rag with aplomb and mien befitting her stature of a second-generation artiste. While the slow composition was in Ek Taal, the allegro was reached in Teen Taal. She adeptly exploited her dulcet voice with cultivated expertise to present Rag Kedar and sift its potentiality in detail. The medium paced composition was in Jhap Taal and the rapid one in Ek Taal. The bhajan of Meera appealed specially to those members of audience, who find it easier to identify with poetry rather than music. Vishwanath Shirodkar provided the singer a stable and supportive accompaniment on Tabla. Harmonium accompaniment by Vivek Bansod was equally competent.
The second half of the evening carried the audience into realm of further abstraction. Shahid Parvez, on the verge of being a legend, revealed all on his magical Sitar. Bageshri was the vehicle for demonstration of his skill, this evening. During the Alaap itself, he fascinated one and all with his Meend work. Enticing and amazing, while it succeeded in riveting the attention of the audience, the deft display did little to maintain the mood of the Raga. The slow and rapid compositions were both in Teen Taal and the medium paced composition was in Ek Taal. He brought the evening to a reluctant close with a rendering of a Bhairavi Gat composed in Addha Taal. Even though the compositions were different, the style could easily be discerned as that of his mentor and uncle, Ustaad Vilayat Khan. With a perfect accompaniment on Tabla by Mukesh Jadhav, Shahid could well involve the audience and transport them; he could also break the charm and make them evaluate his effortless mastery over the instrument without any undue influence. Such a practice might bode ill for ancient aesthetics, but it certainly goes a long way in garnering support for Indian Classical Music in its own fashion.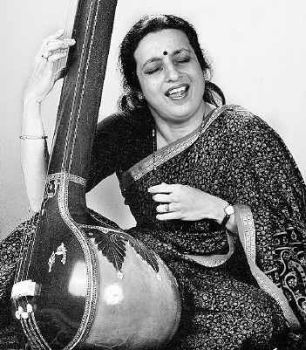 The organizers had ensured a successful evening by choosing the best venue in the city for a music concert. The preliminaries were short and adequate arrangement for Close circuit TV viewing had been made to accommodate the large number of music lovers that had assembled at Jaal. It was indeed a fitting tribute to the maestro, an engineer by profession and musician by choice. Mama Saheb was a favorite Shishya of Ustaad Rajab Ali Khan, with such personalities as Mogu Bai Kurdikar (mother of Kishori Amonkar), Anjani Bai Malpekar, Amir Khan, Prof. B.R. Devdhar and Pundit Kumar Gandharva for close companions and friends.
Indore. 26th December 1999