CARNATIC MUSIC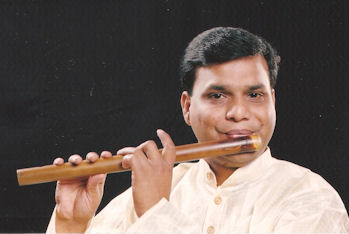 Raghuraman is a talented, well acclaimed exponent of the flute played in the Carnatic style, a classical form of music from the south of India. He has travelled widely and enthralled audiences both in India and abroad.He hails from a family of distinguished musicians. His grandmother,Kirannor.S.Jayalakshmi,a renowned artist of yesteryears,was one of the pioneer Carnatic flautist among women and his father K.J.Govindarajan was legendry Bharatanatyam guru.

Raghuraman had his initial training from Shri Swamainathan Iyer, Shri T.S.Sankaran ,Shri R.Thyagarajan. Later,he continued under the guidance of Dr.N.Ramani. His forte' is the use of a combination of base flutes to enhance the effect of his playing.

His music has been highly appreciated everywhere.He has been performing regularly since 1984 and participated in many prestigious festivals in India and abroad.He has also conducted workshops on Carnatic music in North America and Mauritius.

Raghuraman is a recepient of many awards and prizes, notable among them being the first prize in the All India Radio competition held in 1989 in the instrumental category, resulting in his placement as a graded artist of All India Radio. He has won the appreciation of Shri R.Venkataraman, President of India, for his excellent performance at concerts held at the Rashtrapati Bhavan. He was also honoured with the Delhi Yuva Kalakar award by Shanmukhananda Sangeetha Sabha.

He has been a member of ICCR delegations to North Korea, Japan, Indonesia, Thailand, China, Malaysia, Turkey and Syria. He has also performed in Re-Union,Mauritius and extensively in the U.S.A and Canada. Raghuraman,with keen interest to experiment has given many fusion and newage music.He has also composed music for full length dance ballets.