CARNATIC MUSIC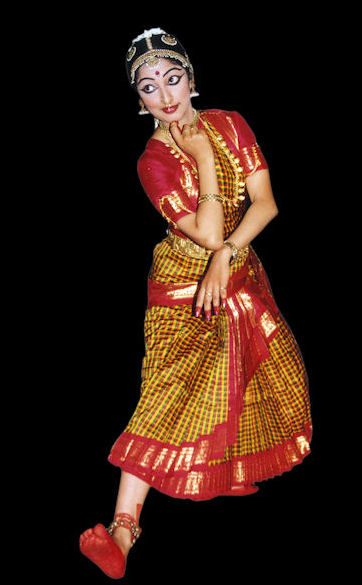 Bharatanatyam, a divine art form is Prathibha's passion, her life. A prime disciple of Prof.M.R.Krishnamurthy, Prathibha has been learning and teaching at Kalakshithi for the past 15 years, which is situated sedately in Bangalore's busy Basavanagudi. Her initial training started under Smt. Padmini Hariharan at the tender age of 5.
Prathibha has innumerable performances to her credit and has participated in many dance festivals. A recipient of the Aryabhata Award, she has also received many prizes in numerous competitions. She is a graded artist of Doordarshan and has completed her Vidwath examination conducted by Karnataka Education Board. She is an 'A' graded artist empanelled on the Song and Drama Division, Government of India and has performed in a number of festivals organized by them all over the country.
Prathibha has given many solo as well as group performances with Nrityanjali Muscat, Kalakshithi Bangalore and many other organizations. To mention a few: Performace at Sultanate of Oman (Muscat) v Udayonmukhi Youth Festival, Mysore Dasara v Hampi Utsav, Kinikini Dance festival, Lakkundi Utsav Chalukya Utsav v Natyanjali Chidambaram, Samskruthi National Dance festival, Ananya, Kalakshetra Chennai, Krsna - Dance festival by international dance alliance, Tunga Mahotsav, Silver Jubilee celebration of Art of Living, Dance Fusion titled "Celebration" with famous Salsa exponenet Lourde Vijay and team, Bharatanatyam Mahotsav organized by "Sangeeth Natak Akademi", Mahabharat Utsav Organised by Mahabaratha Samshodhana Prathistana, Featured in a Documentary, celebration 50 years of formation of Karnataka State by Ministry of Information and Broadcasting.
She has also had a stint as an examiner for the Dance Exams conducted by the Karnataka State Secondary Education Board. Prathibha is also an accomplished Natuvangam artist and a dedicated teacher and aspires to be the torch bearer for the Kalakshetra style of dance in future.
To top it all she has a Masters Degree in Human Development and also recently completed her second masters in Fine Arts (MFA) from KalaiKaveri Univeristy, Trichi.

Prathibha is married to Bharadwaj R Sathavalli, a famous Morsing artist who hails from a family of very well known Musicians and Musicologists.