CARNATIC MUSIC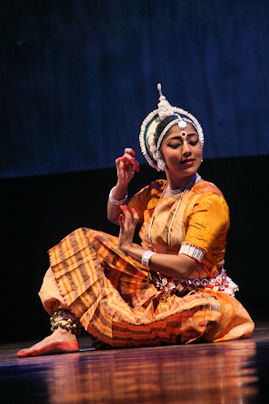 Leena Mohanty is one of the leading exponents of Odissi dance. A senior dancer with wide national and international experience, Leena is not only born to dance, but has established her credentials through sheer hard work and dedication.
She has been awarded the coveted and prestigious Mahari award and was the recipient of the first Ustad Bismillah Khan Youth Award in 2006 from Sangeet Natak Akademi, New Delhi. Through her commitment to Odissi, Leena has proven to be a versatile dancer with a vision. She is the artistic director of Bansi Bilas, an institution devoted to training young and upcoming dancers of Guru Deba Prasad Das' School of Odissi and provides a creative outlet for dancers, musicians and art lovers in Bhubaneswar. She is the artistic director of Trinayan Dance Theater,NYC, USA and is the director of the professional training program. Ms. Mohanty curated and was the artistic director for the successful Odissi Dance Festival Anjali in Kuala Lampur , Malaysia 2009 (photos above), which also featured original choreography by Ms. Mohanty and was well received by audiences and critics alike. Ms. Mohanty is a critically acclaimed and celebrated dancer with a strong and impeccable command of technique. Smt. Mohanty's dance is marked with clarity, graceful intricacies, eloquent expressions, and precision evoking the Rasa with its full luster and essence.
Achievements:
Recipient of Ustad Bismillah Khan Yuva Puraskar 2006 from Sangeet Natak Akademi, New Delhi; Recipient of the prestigious Mahari Award, 2006; Recipient of Sanjukta Panigrahi Award, Patitapawan Kala Niketan, New Delhi; Recipient of Junior Fellowship in Dance from Ministry of Human Resource Development, Govt. of India; Recipient of Senior National Scholarship in Odissi Dance from Department of Culture, Govt. Of India; Awarded the title Singarmani by Sursingar Samsad, Mumbai, India; Empanelled artist of the Indian council of Cultural Relations (ICCR).

Choreography:
Choreographer and Artistic Director Of 'ANJALI- A homage to Guru Deba Prasad Das' which was staged in Kuala Lumpur, Malaysia from 17th to 19th April 2009; Choreographed Bhramara Geet, from Srimad Bhagavatam; Choreographed a group work 'Surya Upasana' for the Konark Festival 2007, which earned rave reviews from the experts and the critics; Choreographed 'MAHARAAS' in Odissi style; Choreographed a feature Milan Madhuri for Doordarshan Kendra, Bhubaneswar; Choreographed many group dance productions like Madhur Milan, Swapna Vilas, Basanta Raasa, Hori Leela and Sri Krishna Balyaleela.