CARNATIC MUSIC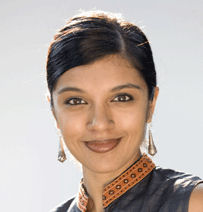 Aparna Ramaswamy (Artistic Director/Choreographer/Principal Dancer of Ragamala, USA) has performed Bharatanatyam in the Twin Cities from a very young age, and has been studying under the guidance of Ms. Alarmel Valli, the world's leading exponent of the Pandanallur style of Bharatanatyam, since the age of eight. At the age of twelve, she was the first of Ms. Valli's students to perform an arangetram (two-hour debut recital) in India.
Aparna has performed at numerous venues both nationally and internationally. Most recently, she presented a critically acclaimed solo performance at the prestigious 2005 Chennai Music and Dance Festival in Chennai, India. Aparna has been awarded several honors, including a McKnight Artist Fellowship for Dancers, a McKnight Artist Fellowship for Choreography, a Bush Fellowship for Choreography, an Arts and Religion in the Twin Cities grant, funded by the Rockefeller Foundation, two Jerome Foundation Travel Study Grants, and an Artist Exploration Fund Grant from Arts International (New York).
In 2004, Aparna's choreography was commissioned by Walker Art Center and the Southern Theater (Minneapolis, Minnesota) for their series Momentum: New Dance Works. In 2005, she was the recipient of the Lakshmi Vishwanathan Endowment Prize from Sri Krishna Gana Sabha (Chennai, India) and the Sage Award for Best Dancer (Minneapolis, Minnesota). Aparna is a graduate of Carleton College, with a degree in International Relations and Political Science.