OTHERS
Suwarna Wad is teaching Post Graduate classes in Govt. girls College, Moti Tabela, since 1985. She is primarily a Hindustani Vocal artiste who has, when her busy academic schedule permits, perormed at various concerts in Pune, Indore, Varanasi. Currently working on the changes in Vocal recital style during this century, Suwarna has both, the artiste's imagination as well as critical acumen.
AMBADAS AGLE
MUSIC CONCERT
by SUWARNA WAD
GHATAM
They came in twos, they came in threes; a few walked in, unaccompanied but with their minds full of anticipation. Some of them had heard Amabadas Pant Agle play on his Pakhawaj. Others had only heard of this internationally renowned artiste. The music lovers of Indore thronged the Abhinav Kala Samaj Hall at Gandhi Bhawan. After all it was his grand daughter, Chtrangana Reswal, Taal Mani from Sur Singar Samsad, first and only female Pakhawaj player who was to start the function with herperformance. The camera team of a famous educational institution of the city and M.P. State had arrived to cover Chitranganaís performance. Not only does she hail from a musical family, she has also learnt music in a formal manner, studying Pakhawaj under Raja Chhatrapati Singh for five years. Ustad Allauddin Khan Academy under its Durlabh Sangeet Shaili scheme sponsored this study.
All the rasika-s in the audience found the Pakhawaj recital too short. They were so engrossed in the forty-five minutes long performance that the rhythm reverberated within their minds `long after it was heard no moreí. The organizers, mainly Rajendra Pant Agle, Ambadas jiís grandson had planned the programme so well, that Shiv Pratap Upadhyaya maintained the mood with his Dhrupad recital. Shiv has a rich voice for dhrupad style of singing and he gave a skilled, though at times, restrained performance. His humility added to his art, as did the planned and sedate accompaniment on Pakhawaj by Rajendra Agle. It was evident that the education learned at the feet of such stalwarts as Pt. Vidur Mallik, Premkumar and his elder brother Ramkumar Mallik, shall serve Shiv Upadhyaya a long way.
The enthusiastic and vibrant mood of the evening took a mellow turn with Ragini Trivediís Sitar recital. On the last Monday of the millenium, this artiste chose Gauri, a Raga dedicated to Lord Shivaís wife. It was from her academician father, Dr. Lalmani Misra who acquainted the world with almost extinct Vichitra Veena that Ragini seems to have inherited her scholarly attitude and subtlety of notes. Her Alap assuaged the audience with her introductory notes and within a few minutes, every one of them was enchanted and lost in a world of his own. Notes added to each otherís identity and together created a fractal that in its turn lead to another till the woven web of music possessed the audience. Her compositions were set in Misrabani, a style of rhythm that her father and Late brother Gopal Shankar Misra had popularized. Raginiís Meend work is smooth and neat, her rhythm accurate; the performance on whole was sober and ennobling rather than being flashy and an exercise at pandering to indifferent taste. Ulhas Rajhans accompanied Ragini on Tabla.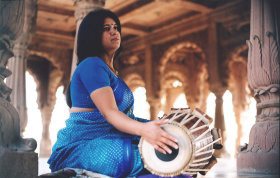 It was up to Alpana Vajpayi, trained at Chakradhar Nritya Kendra, Bhopal by Kathak genius Pt. Kartikram and his son Pt. Ramlal, to revive the original mood of the evening with an enchanting dance performance. Like, Ragini, Alpana too is primarily an academician, but she has also participated in theater and films. This evening she won the hearts of the audience with well-executed bandish-es of Raigarh School. Her presentation in Dhamar taal was equally appreciated. Alpana owes a lot for the success of her presentation to accurate and enthusiastic accompaniment on Tabla by Sanjay Mishra and on Pakhawaj by Rajendra Agle. Surekha Kaamle gave a melodious voice to actions of the danseuse and Shri Govind Potdhan provided a thoroughly gentle accompaniment on harmonium. By her impromptu choreography to overcome the shortcomings of the stage, Alpana proved that she indeed merited the Shringar-Mani awarded by Sur-Singar Samsad.
The only negative of the whole evening was its venue. A good hall in itself for music concerts, the end of Millenium found Gandhi Bhawan sporting all kinds of discount sales, trade-fairs and to cap it all, a mobile amusement park that happened to be in town right then. Yet, perhaps it proved the point, that there exists a group of listeners that would brave all the lure of modern gadgetry and find their way to an evening of genuine aesthetic pleasure.