CARNATIC MUSIC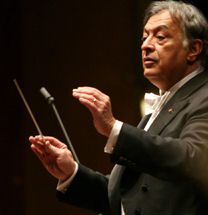 Zubin Mehta was born into a Parsi family in Bombay (now Mumbai), India, the son of Mehli and Tehmina Mehta. His father Mehli Mehta was a violinist and founding conductor of the Bombay Symphony Orchestra.
Zubin is an alumnus of St. Mary's (ISC) High School, Mazagoan, Mumbai and St. Xavier's College, Mumbai. Zubin initially intended to study medicine, but eventually became a music student in Vienna at the age of 18, under the eminent instructor Hans Swarowsky. Also at the same academy along with Zubin were conductor Claudio Abbado and conductor/pianist Daniel Barenboim.
In 1958, Mehta made his conducting debut in Vienna. The same year he won the International Conducting Competition in Liverpool and was appointed assistant conductor of the Royal Liverpool Philharmonic Orchestra.
Mehta soon rose to the rank of chief conductor when he was made Music Director of the Montreal Symphony Orchestra in 1960, a post he held until 1967. In 1961, he was named assistant conductor of the Los Angeles Philharmonic; however, the orchestra's music director designate, Georg Solti, was not consulted on the appointment, and Solti subsequently resigned in protest; soon after, Mehta himself was named Music Director of the orchestra, and held the post from 1962 to 1978.
In 1978 Mehta became the Music Director and Principal Conductor of the New York Philharmonic and remained there until his resignation in 1991, becoming the longest holder of the post.
The Israel Philharmonic Orchestra appointed Mehta its Music Advisor in 1969, Music Director in 1977, and made him its Music Director for Life in 1981.
Since 1985, Mehta has been chief conductor of the Teatro del Maggio Musicale Fiorentino in Florence. Additionally, from 1998 until 2006, Mehta was Music Director of the Bavarian State Opera in Munich. The Munich Philharmonic Orchestra named him its Honorary Conductor. Since 2005, Mehta has been the main conductor (together with Lorin Maazel) of the new opera house of the Ciutat de les Arts i les Ciències in Valencia.
Zubin Mehta received praise early in his career for dynamic interpretations of the large scale symphonic music of Anton Bruckner, Richard Strauss, Gustav Mahler and Franz Schmidt. He has also made a recording of Indian instrumentalist, Ravi Shankar's Sitar Concerto No. 2, with Shankar and the London Philharmonic Orchestra. His c