GHATAM
There is no voice which will be heard, there is no word which can be spoken, in the purest form of time lives Nivedita, Nivedita's world is pure because it is devoid of any form of attempted sound, but Nivedita's world is beautiful, because she lives in a World of Dance.
Nivedita is a child whom the almighty have presented with the best of things in Life, and one of the wonders for her is Smt.Subhadra Prabhu, a well known artist is Nivedita's aunt, who runs the well known institution "Nataraja Nritya Kalamandir" since the last three decades, In the World of Silence, the motion of dance always inclined baby Nivedita towards it, a sense of joy and enjoyment the little child drove out of this motions. Little Nivedita was always keen to be at the dance classes, as she could see others dancing, she tried to imitate and repeat the steps on her own.

Seeing Nivedita's interest, Smt.Subhadra and her mother took upon to fine tune, and carve out an artist who was hidden in Nivedita.
It is not less than a penance for the Guru as her Shisya, it was total devotion of the twosome which ultimately saw Nivedita as a dancer, dancing on the stage. This is the most remarkable achievement, one would come across in lifetimes. While the mentor sows the seeds of an accomplished dancer, Nivedita's love for the art of dancing complements the Guru's thought, by being able to perform wonderfully.
Year 2000 marks a special year for this prodigy, at the " Ability Utsav- 2000, held at New Delhi ,conducted YMCA, Nivedita showcased her talent, and eventually winning over hearts and heaps of accolades, Nivedita won the Second Prize at this National Level Event.
Nivedita features regularly at all the dance events for her school and the dance institution. Nivedita's performance is a hand holding of a most peculiar form, given the difference in her abilities , While performing Nivedita is guided through her dance, by her Aunt , having given the performance lessons at class, during the stage performance Subhadra Prabhu guides Nivedita through mudras and helps her to co-ordinate with the song sung by her mother. Thus Nivedita is able to perform with much brilliance, with lot of Rasas filled in her abhinaya.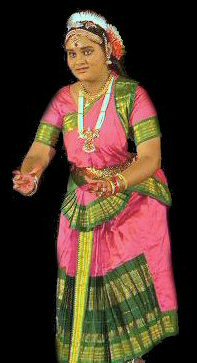 Nivedita performance bears a mark of an admirable artist, and in coming times she will surely be recognized artist. Nivedita is doing excellently in her academics at her school "J.S.S. Sahana", Bangalore . Her teachers are proud for her all round achievements.
Nivedita's family is looking forward for her Arrangetaram, and so is the budding talent putting in lots of hardwork towards making of a accomplished dancer.
Nivedita is all about grit and determination, nothing able to hurdle her from mastering an art of such high intensity. There is no doubt about this flourishing artists being a role model for many in this world. Let us all Wish Nivedita and her Family, and Salute the wonder Nivedita for her courageous effort, which will surely bear fruits of success in life.
Nivedita resides at 164, 16th Cross, 5th Phase, J.P.Nagar, Bangalore 560 078. Tel:+91-(0)-80-26596903/26588511