GHATAM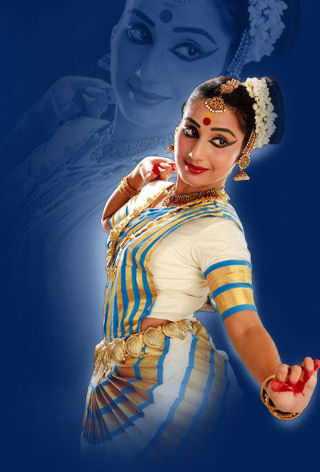 Dr. Neena Prasad's Mohiniyattam spoke volumes about her dedication, and years of intensive training under exponents. She has matured into a dancer whose language has brevity, precision and clarity. Every well- rehearsed move on stage revealed dancers eye for fine tuning the nuances of the dance form. Neena's dance had a strong vocal support in Changanassery Madhavan Nambuthiri's rendering. The other accompanying artistes were Ramesh Babu on the Mridangam, Iswar Ramakrishnan on violin, Trissur Krishnadas on Edaikka and Mosalikanti Kishore on Nattuvangam. Though the performance commenced with the inviting beats of Edaikka, somewhere in between the instrument was not heard. The disputes and discussions about the hoary past of this art form might never find definite answers, but such performances are enough to prove that this dance form is here to stay and enchant many Rasikas.
COMPOSERS
The woman in our mythology who was denied the innocence of childhood, the effervescence of youth, devoted love of her beloved was the fire born maiden "Draupati". Her story was retold most lyrically by dancer-scholar Dr.Neena Prasad in her recent performance for Narada Natya Vizha at Narada Gana Sabha on 28th January. Her firm footing in various dance styles like Bharatanatyam, Kuchipudi and Kathakali, which she imbibed from renowned Gurus gave her an added advantage while she performed her chosen style Mohiniyattam. Dr. Neena Prasad proved that Mohiniyattam has today developed a strong vocabulary and is today burgeoning as a powerful medium of expression.
She started the evening's performance with a Cholkettu in Kedaram and a Ganesha Stuti. Cholkettu in Maddya Talam unfolded the various possibilities of the Nrtta component which was aesthetically delivered by Neena. The story of Draupati adapted from the Bengali work of literary genius Pratibha Rai's "Yajnaseni" , was the oeuvre of the evening. It was set to a varman format in Raga Latangi, which had both a penetrating as well like dream-like quality, an enigma! The helpless inner plea of Draupati , while conversing with her closest companion Krishna was best portrayed through the lyrics, "Sakhe Krishna sakhe…". Draupati had reached the pinnacle of her life's journey. As she proceeds with Pancha Pandavas, her brave warrior husbands towards Eternity, she is the one who falters and falls first. She hopes to be given a helping hand, but realises the bitter truth that she is after all alone in life's journey; not even one among her five partners turn back or even spare a wink at her. Her only solace is Lord Krishna to whom she pleads; not for moksha or a life in heaven; She asks him a boon to be reborn again as a human being who can enjoy the joys of girlhood and youth; who can have just one beloved, who dotes on her and who is her true companion,; she also wants to enjoy the maturity of growing old and share the fruits of wisdom gained in her life with the coming generations. Neena Prasad with her contained abhinaya transformed into Draupati , the woman who dares to dream even after an eventful life full of surprises. The final piece for the evening was a patriotic poem VandeMataram in Sindhu bhairavi raga, a salute to our incredible India.