GHATAM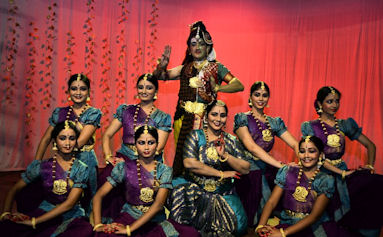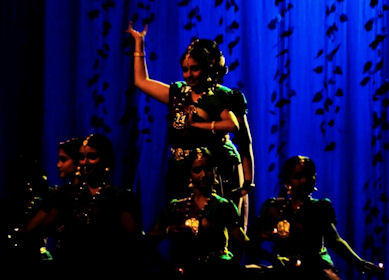 Kala Pradarshini, Centre for Performing Arts and Cultural activities, inaugurated its annual dance and music festival on 10th January 2012, at Bharatiya Vidya Bhavan, Mylapore.
Kala Pradarshini, founded by Bharata Natyam exponent Kalaimamani Smt Parvathi Ravi Ghantasala in 1998, is now one of Chennai's premier institutions which seeks to constantly mould and present a galaxy of young artistes and to provide them with opportunities and experiences by way of its annual festivals and forums.
The evening of 10th January, 2012 proved to be an immensely enjoyable, scintillating and memorable one to say the least, for all who were audience to the premiere of 'Ardhanari – Where totality lies beyond duality.' And true to its name, Ardhanari brought out the true essence of Unity in Diversity in its own authentic style. Bharatiya Vidya Bhavan auditorium in Mylapore was packed with fellow dancers, critics, eminent personalities and rasikas.
"There is no place where He is not
There is no place where She is not
They are one and the same.. "
The Supreme symbol of cosmic energy, the confluence of Prakrit and Purusha, the synthesis of Parvati and Shiva- Ardhanari, was depicted by Guru Kalaimamani Smt Parvathi Ravi Ghantasala, Sri N. Srikanth and the students of Kala Pradarshini - Dhivya Prabhakar, Shravani Joshi, Seethalakshmi Suresh, Namrata Venkatesan, Vallabi Chellam, Preethi and Uvasri. This was done by way of exquisite compositions of Adi Sankara, Kalithogai, Muthuswamy Dikshitar, Tulsidas, Kalidas and King Shahaji.
Choreographed by Sri Srikanth, the production was an amalgamation of songs in praise of both Shiva and Parvati, comprising strong, brisk, energetic dances to symbolize Shiva and the graceful, elegant, benevolent yet fierce ones that represented Shakthi. The pleasing colours of the costumes (purple and green ), the ingenious and gorgeous jewellery and the well co ordinate movements of all the dancers ensured that the evening was truly worth remembering.
Whether the peppy, fast paced songs with intricate swarams and tala or the soothing and lilting tunes, Sri Rajkumar Bharathi is indeed to be appreciated for what seems to be an immensely engrossing and almost flawless job. With G. Srikanth and Krithika Aravind lending vocal support, Sukhi on the Mridangam, Naveen Iyer on the flute, Bhavani Prasad on the Veena, Sai Shravanan on the keyboard and Ganapathi on other the percussions, one is transposed to an entirely different world, a very divine and tranquil one indeed.