GHATAM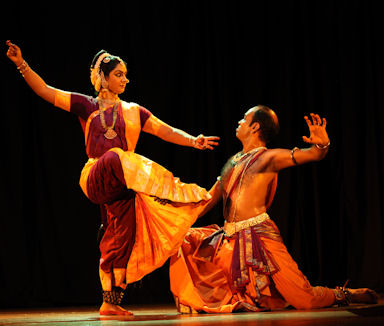 Mosalikanti Jaikishore hails from an artist's family, the son of Chennai violinist Sri M.S. Rao. He began his dance career at the age of seven under Padmabhushan Guru Dr. Vempati Chinna Satyam of the Kuchipudi Art Academy, Chennai. In the 18 years he trained under his guru, he became an accomplished dancer with an uncanny understanding of the nuances of the art. Mastering the intricacies of the Kuchipudi style, Jaikishore excelled in important roles in his guru's ballets and solo performances. His technical perfection, incomparable flexibility, and complete transformation into the character he depicted won him patronising reviews and accolades. In recognition as an excellent performer and an understanding teacher, Jaikishore was awarded the title 'NATYA VISHAARADA,' by Kuchipudi Arts Academy in March 1999, and the title of 'YUVA KALA VIPANCHEE' by the Vipanchee Trust headed by PadmaVibhushan Dr. M. Balamurali Krishna in December 2004.

Jaikishore is highly regarded by students and teachers alike for his inspiring teaching methods. He served as a teacher at the Kuchipudi Art Academy for four years, from 1996 and 2000. Since 1996, he has traveled to the United States every year to conduct workshops at established Kuchipudi schools in St. Louis, Dallas and Washington, D.C. On his own since 2000, he primarily teaches in the Chennai area, training young upcoming artists as well as prominent dancers well established in the field. With an uncompromising insistence on proper form and technique, Kishore seeks to impart to his students a deep understanding of the various components that constitute every movement and gesture in dance. That a student should understand the art form on every level is one of his central aims as a teacher. The thoughtfulness and depth that Jaikishore brings to his teaching is also a marked aspect of his highly acclaimed choreography. In his own compositions, he has honored the precedents set by his guru while seeking to establish his own unique style with the innovative use of rhythm and rhythmic variations. His body of choreography includes over thirty solo pieces, several thematic presentations, and dance dramas. All his choreographies were critically acclaimed by scholars, critics and connoisseurs of arts. His in-depth knowledge of music and rhythm, logically explained aesthetics to the present dance world and a complete command over the dance form to make it speak the language he wishes to express, makes Kishore a highly sought-after choreographer.
Kishore has presented various group and duet performances at various prestigious festivals:

. Ananya festival by Seher New Delhi,
. New Choreography festival by Impresario India New delhi,
. All India Dance festival by Bharat Bhavan Bhopal,
. Dhauli Festival by Orissa Dance Academy Bhubaneswar,
. Natyanjali festival at Chidambaram,
. Mudra festival at Trivandrum,
. Kuchipudi Festival by Potti sreeramulu Telugu University,
. Tunchan festival Tirur, Kerala
. Dance Festival by Sankara University Kaladi, Kerala, and
. Rukmini devi Birthday celebrations by Kalakshetra Chennai,
. Madras Music Academy dance festival 2011
. Mudra Festival 2011 Trivandrum,
. Konark Dance festival 2011 by Orissa tourism Konard, and
. N C P A Mumbai are a few to mention. And he has received raving reviews for the same.
His brilliant ability to control the orchestra and run it smooth through out the show, does not limit him to wielding cymbals just for kuchipudi but also for bharatanatyam and mohiniattam. As a nattuvanar, he has traveled all over India, United States, Europe and middle east countries to name a few.

Jaikishore travels to the USA every year to conduct dance worshops in various established and reputed dance institutions. Since 2009 he has also started visiting Russia regularly and has also given duet performances along with his wife. He has done numerous choreographies for various established dancers and dance institution in India and abroad( the list of choreographies is attached).

Jaikishore lives in Chennai along with his wife Padmavani (also a kuchipudi dancer) and two young daughters.
Jaikishore Mosalikanti/Padmavani Mosalikanti
16/21 Customs Colony
VGP Salai (near VGP house)
West Saidapet
Chennai 600015
kishoremosali@gmail.com
Padmavani, wife and disciple of Sri. Kishore Mosalikanti, was initiated into dance at a young age and has eventually grown to be a kuchipudi exponent. Though her initial training was in bharatanatyam, Kuchipudi became her passion after she joined Kuchipudi Kala Kendra Mumbai in 1995 under the tutelage of Sri.M.S.R.Murty, a senior disciple of Padmabhushan guru Dr.Vempati Chinna Satyam. She very soon mastered the basic nuances of the art form and became an important part of Kala Kendra's troupe giving group and solo performances. She has also played major roles in the dance-dramas. She has won the acclaim of Critics and Connoisseurs of art, for her apt portrayal of the role 'Satyabhama' in the traditional Kuchipudi dance ballet 'Sri Krishna Parijatam'. She has also received rave reviews in the local dailies for the same. She has been a great support to her teacher in training students and also during lecture demonstrations where she even held the podium.

Padmavani is a receipient of the National Scholarship, from the Dept. of Culture, Govt. of India for the year 1998—2000.

Padmavani has travelled all over India presenting her talent on prestigious dias. Mentionable are the cities like—Goa, Nagothane, Nasik, Kolhapur, Nagpur, Kolkata, Chittaranjan and many more.
She also had participated in many prestigious festivals held by pestigeous organizations. To name a few: Kuchipudi Mahotsav Mumbai in 2001, Rain Drops festival at NCPA Mumbai in 2001, Kirti festival Nasik 2000, Sahu festival Kolhapur 2000, West zone cultural centre- Nasik- 1999, Young kunchipudi dance festival Mumbai--1998

Ever since her marriage in 2002 and her shift to Chennai, she has been a helping hand to her husband Sri. Kishore Mosalikanti(disciple of Padmabhushan guru Dr. Vempati Chinna Satyam), the most sought after nattuvanar, choreographer,performer and teacher for kuchipudi today. She has been learning the advanced and finer nuances and trying to master the style to make it adaptable to the present dance field under the tutelage of her husband, Sri.Kishore. Vani and Kishore, have together been performing and also training the aspirants towards perfection in the Kuchipudi style of dance. She has also been making her appearance as a solo performer during the festival season in Chennai. Under Kishore's guidance she has not just grown as a performer but also as a teacher and nattuvanar. She has been wielding the cymbals for senior kuchipudi dancers and has also toured European countries like Holland, France and Belgium for the same. As a teacher she instills discipline in her students and gives her best without compromising on quality and style.
With an urge to know the art form from its roots and to learn about its rich heritage, she was drawn to the village 'kuchipudi'. The little facts that she learnt there caught her deep interest and inspired her to complete the post graduate course in Kuchipudi dance, from 'Sri Siddhendra Yogi Kuchipudi Kala Peetham', affiliated to 'Potti Sriramulu Telugu University, Hyderabad. That a dancer should know not just the grammer (Natya Shastram) and literature(language and poetry) of dance but also the science (technique) and math (rhythm) of that particular style, is her prime idea while learning and she insists on the same for her students. As a part of Sri. Kishore's ensemble, padmavani has danced in various dance festival.
Padmavani and Jaikishore have also been giving duet performances. To name a few:

. Tunchan festival- Tirur, Kerala
. Dance Festival by Sankara University Kaladi, Kerala,
. Bharatiya Vidya Bhavan, chennai
. Vasanth Utsav, by Saraswati Cultural Trust, Chennai
. Performances in Kazan and Moscow, Russia
. Mudra Festival, thiruvananthapuram, Kerala,
. Nishagandhi Festival 2012, Kerala and many more.

To be able to remain a student all the life is a real boon, and finding a life partner like Kishore has proven to be a boon in disguise for Vani. She intends to use this opportunity to the fullest and serve the dance world in her best possible way.