GHATAM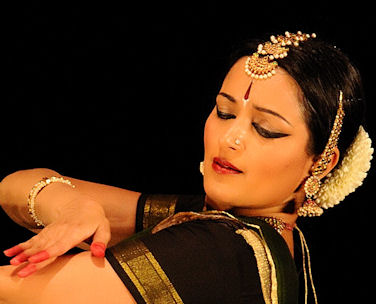 Bharata Natyam is an ancient classical dance form. Yet, artistes and choreographers who work in this medium are tuning it in surprising ways to talk about the problems, big and small, of modern life.

In the San Francisco Bay Area, Vidhya Subramanian, the director of Lasya Dance Company has established herself a creative choreographer and dancer who often wields her classical skills for the delineation of contemporary themes. Her recent production, "Navarasa: Her Choice," staged on August 8th, 2010, presented women in many different moods with each of the women portrayed representing one of the nine main emotions: Sringara (Love), Veera (Bravery), Hasya (Mirth), Roudra (Anger), Bhibatsa (Revulsion), Karuna (Pity), Bhayanaka (Fear), Adbhuta (Wonder), and Shanta (Peace).

In order to present each emotion, Vidhya borrowed characters from Indian mythology, fiction, and history. What made the program more than just a dance production was how it made the audience pause and reflect. At the end of the portrayal of each rasa was a tie-up to a recent occurrence. Hasya, for instance, was showcased as the laughter and mockery that arises from the predicament of Surpanaka in The Ramayana. While we laughed at Surpanaka's nose-cut on stage (painted masterfully by Vidhya), it wasn't very funny when we stopped, at the end of the rasa presentation, to consider how, in recent times, Aisha (Bibi) was mutilated (her ears and nose were cut off by her Taliban husband).

Was Lakshmana's facial mutilation of Surpanaka justified then just because she was a demoness? If anything, it made you realize that even as the woman's lot has progressed in many parts of the world, in some cultures, the attitude towards women continues to be barbaric. The Navarasa project was not just an attempt merely to portray the nine rasas but also to make a statement about the problems still plaguing the world. When delivered with a message for current times, art becomes layered and poignant. Thus Vidhya's treatment and projection of the subject matter elevated the vehicle, bharatanatyam.

One of the most unforgettable portrayals of the evening, adbhuta, was by Vidhya herself. For this, she drew from "His Curls", a short story by writer Jaya Padmanabhan. For fifteen stupendous minutes, Vidhya narrated the story with theatrical panache, showing the interplay of emotions in a mother, who is constantly struck with wonder at the machinations of her beautiful newborn son, until one day, he morphs into a terrorist. Along with the wonder of child birth we witnessed an entire gamut of other emotions that come into play with the arrival of a child into one's arms: the joy when he takes the first step, the mirth that arises from a child's pranks, the anger when someone bullies him and the fear when his life is in danger.

Vidhya's choreography challenged the intellect in many other places. "Juxtaposing Radha in Jayadeva's Kuru Yadu Nandana against Heer–which showed the dichotomy of fulfilled love and insatiable love–was brilliant in concept and excellent in execution. I loved the last part, especially where she switched between Radha and Heer every second," says Neela Srinivasan, referring to Vidhya's portrayal of sringara rasa. In the presentation of karunya rasa (compassion) through the portrayal of Chandalika's life, instead of an exuberant dance of her liberation, Chandalika's joy was actually presented in a subdued manner, reflecting the effect of her long-term suffering in the hands of society.
For this program, Lasya dancers abandoned their traditional ornate dance costumes for simpler fare; the stage itself was black and bare, in an attempt to shine the light on the moods being evoked that night. Dancers appeared in black with just a gauze-like cloth–a different color for all nine senior dancers– that was representative of the nine emotions. The colorful thin layer was the metaphorical rasa–a veneer that all human beings add on to the basic palette of our personalities when we present ourselves to the world. A rhythmic interlude by junior dancers before each of the nine rasas was a charming introduction to each rasa and a creative use of fledgling dancers.

Vidhya Subramanian has been teaching classical Indian dance in the Bay Area for almost two decades. She founded Lasya Dance Company in 1999. A number of students, including college-age dancers who have studied with Subramanian from the age of four, are steadily returning to perform in the company. In the Navarasa production, the passion of these students was evident in their portrayal of intense and complicated characters of lore such as Kannagi, Chandalika and the Gandhari.

Vidhya demands attention as a thinker's dancer, challenging her audience to appreciate classicism even when it is served in offbeat ways. You may not always agree with everything Vidhya is trying to say. But she will always leave you interested, intrigued and inspired.