GHATAM
The children and their parents now sat relaxed after a day full of hectic activity at Teen Moorti Bhawan during the year-long awaited Children's week. After the science fare and painting competitions, it was now time for them to get acquainted with Culture and Heritage of their land. It could be anything from a Terah- taali of Rani Karna to folk songs from Rajasthan or Bengal. This evening in 1973, it was magic of some other kind.
The chill of the winter evening was soon forgotten, as they all sat mesmerised by the action that took place on the outdoor stage. Bhagwat, after performing the routine worship of Lord Ganesha had finally started narrating the tale when a shriek and someone rushing onto the stage interrupted him. The children were baffled, a few parents alarmed. Their concern was soon put to rest when they learned that it was an actor belonging to the troupe. However, there was some commotion once again and after a few moments, the children tried to guess the persona of the figure hiding behind a curtain held by two stag-hands. Who could have expected that it would hide a horse? Naturally, they laughed and the huddled figure of a half-horse half-man squirmed and shied in distress.
And then, after promising his friend Devdatta that he would set matters right, there was the strong, virile Kapil who was trying to fight his way out of the colourful saris set as snares by bewitching beauties. He tried to peer at the several doors that were carried by dancing belles and finally could locate one with the double-headed bird. Later, this same Kapil yelled his way around the stage in glee driving a bullock cart in which a jubilant Padmini and a glum Devdatta rocked according to their moods. When they halted, it somehow happened that one by one both of the friends cut their heads with a sword. When Padmini discovered it she begged the Goddess Kali to take her life as well. A few of the younger kids whimpered as the Goddess, hitherto a painting on a cloth, suddenly burst into a loud guffaw and began abusing Padmini for disturbing her slumber. She instructed the awe-struck woman to join the severed heads with the bodies and touch the necks with the sword. Padmini did so and lo; magic of all magic the two dead men woke up, as they had never severed their heads off. The trio danced in glee and laughed themselves to exhaustion. The tense audience too relaxed at this point. Though there was a bit of bloodshed, things had finally ended peacefully. But no, they didn't. Soon the men were fighting with each other. Both of them said that Padmini belonged to him. And there was some truth in the matter, too. To an audience twenty-five years away from John Woo's Face Off, it took some time to grasp the situation. The heads had been exchanged. The Bhagwat announced an interval, exhorting the large-hearted audience that was wont to go to asleep occasionally while the play was on, to ponder upon who should claim Padmini for his wife – Devdatta's head attached to Kapil's body or Devdatta's body that now carried Kapil's head on its shoulders?
It reminded the better read of the children of Vetaal's inevitable question to King Vikramaditya -- a novel and unique one Chandamama after Chandamama. The parents had quite different concerns. The play was moving too close home for comfort. They could all feel the looming presence of the real-life counterpart of a Kapil. The men shared Devdatta's justifiable anxiety and women wondered whether they dared act out as Padmini. To each other, however, they intimated that this horrible farce could never be possible in real life.
When the play restarted, it was clear that the playwright still carried his bag of tricks. Once again, he made the children wonder whether it was possible to obtain for themselves such a pair of talking dolls as Devdatta had brought for his son. The parents had other concerns. The playwright, to those flimsy realms of hesitant desire had ported them, where the lack of their dull but firm grounds of morality made them feel wobbly and loose.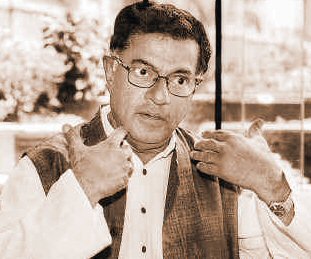 The pair of talking dolls informed them of Padmini's dream – the hazy, misty, vague stirrings that suddenly crystallise into an image of a muscular, vigorous, vibrant Kapil. The adult members of the audience turn self-centric at this. Each can feel the looming presence of the real-life counterpart of Kapil. The innocent play had a darker edge after all. It does not surprise them when Padmini tracks a wounded, rough but sturdy Kapil in the deepest of the woods. The man, who had through sheer will mastered the desires of a foreign body, disciplining it from a whimpering, protesting, insipid one of Devdatta's to strong, capable one of a wild hunter, looses once more his control.
The children look forward with glee when Devdatta challenges Kapil to a duel and both fall down. To them, now it is normal that Goddess Kali would come and rejoin their severed heads – correctly, this time, they hope. The parents know this shall not happen. They understand the dilemma that Padmini leaves behind her along with her young son. They may still not sympathise with her, but they do comprehend that this woman who sits on the lighted pure with bodies of both, Devdatta and Kapil, leaves the world still unresolved – which or what combination of the two, should she ask the God for to be her husband in the next birth?
The last of the magician's trick is the glum boy, who has seemingly lost the power or desire to converse, bursting into laughter when he spies the talking horse. The horse laughs along and gradually its laughter turns into a horse's neigh. The two lonely creatures discover a friend in each other. As the boy begins to ride the charger, the parents now realise that the stranger Padmini dreamt of, was her own son. Chastised, they hold their children with more-than-routine warmth and care and start for home with gratitude for possessing what they do.
Girish Karnad had woven such a spell of magic that it still retains its power. One is reminded of Prospero of Tempest and as a natural corollary, of the Bard himself who promises to bury his wand fathoms deep. Karnad had perhaps found the same after these many centuries. For nowhere in between do we come across such a complete experience of theatre. There is not a device that he has left untouched, be it mask, mime or music; and what he has touched, he has made perfect. On the eve of a new millennium, it is natural to reflect whether we shall have to wait long for another such experience.